Featured on
Vending Market Watch
A strong history has brought us so much growth over the past 30 years, and we don't plan on stopping. Check out Vending Market Watch's article about C&S Vending and find out what our services can do for you.
Read the Article
San Francisco Bay Area's break room consultants
C&S doesn't just provide vending machines or office coffee service, but a comprehensive line of services that meet any need.
For C&S, locally owned isn't just lip service. Since 1989 this family business has been providing jobs in the San Francisco Bay Area and supporting the local community. We pride ourselves on providing the same level of personalized service we expect of our service providers. This dedication has ensured that for more than three decades, we have been the best in the San Francisco Bay Area for all break room needs.
Right along with the family vibe at C&S is the dedication to staying up to date on technology. We use wireless inventory systems, accept mobile payments, save energy with LED lighting, invest in credit card readers on equipment, and offer a mobile vending app all to serve our San Francisco Bay Area customers better.
Enhanced customer service sets C&S apart
We incentivize high standards
Every month one of our management team personally visits vending locations with a 15-point checklist. If the vending machines pass inspection, the delivery person receives an immediate cash bonus for a job well done. If not, we send the driver out to bring the machines up to our high company standards.
We are proactive about maintenance
All C&S equipment is put on a maintenance schedule to prevent problems from occurring. Soda and snack vending machines are cleaned each time products are delivered and components are replaced that commonly wear out before they fail. We also ensure products are never out of stock through careful timing of deliveries and adjusting for seasonal needs.
We respond to customer requests fast
When something goes wrong, such as a machine malfunction or out of stock product, we know it affects our customers. They are inconvenienced and frustrated. That's why we check messages continuously each day, every hour, to ensure we respond to your request within 60 minutes or less.
Modern break rooms for modern workspaces
Leading break room solutions that reflect the mission and décor of San Francisco Bay Area businesses.
Family run
We put our family values into every decision we make, from investing in fast customer response to enhanced technology.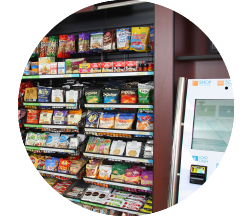 Custom solutions
We don't offer a one-size-fits all service, but individualized plans for each San Francisco Bay Area customer based on their break room needs.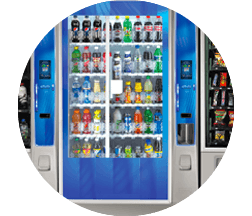 Years of service
Since 1989 we have been serving the San Francisco Bay Area, evolving with the trends and learning how to be the best in the business.
Single stop
We offer a comprehensive range of services for San Francisco Bay Area businesses, including vending, water filtration, micro-markets, office coffee, and pantry service.
Technology brings more convenience to your break room
Bring Convenience to your San Francisco Bay Area
through technology advancements
Level up your break room
Choose a long-time family business for your San Francisco Bay Area break room needs – C&S at (650) 962-1447 or sales@csvend.com.